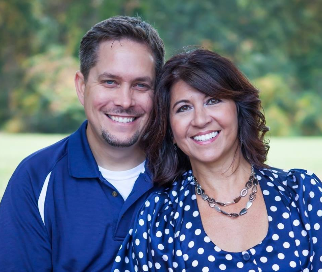 He started Baseball Systems in 1999, where he was a Coach and mentor to hundreds of kids and families. Working with kids from all walks of life, Bryan saw the need for teaching valuable life lessons and created a program named, "Beyond the Field". This program helped shape the lives of all of the players and focused on family values, respect, responsibility, accountability and the importance of having Jesus in their lives.
Bryan has spent 26 years in and around baseball. He is an accomplished Coach accumulating nearly 1,000 wins, and helped hundreds of student athletes pursue their academic and athletic career. He has been the keynote speaker at leadership conferences, college campuses, churches, and businesses with a helpful and powerful message to all that hear.
Prepared for God's calling
Throughout the years, and learning some value life lessons along the way, Bryan felt God calling him into church ministry. For years people would ask him, "Are you a Pastor"? When he would respond with a "No", their answer was always the same, "You should be a Pastor!" This happened too many times to count and could no longer be ignored.
After finally realizing that God had other plans for his life, Bryan decided to listen to God and obey his instruction to leave what he was doing and to pursue the pastorate! Over the last 10 years Pastor Bryan has endured life?s greatest hardships and greatest joys, has worked his way through ministry, attended seminary, and answered the call in September 2018 to become the Lead Pastor at Wayside Emmanuel Church in New Castle, PA.
Pastor Bryan comes to Wayside Emmanuel Church prepared and equipped for his role. He holds his Bachelor of Science Degree in Human Ecology, from the Ohio State University, holds a professional license as a Personal Care Home Administrator, from Penn State University, and is studying Divinity at Christian Leaders Institute.
Bryan and his wife, Dianne, have led and created many ministry programs including the "Marriage Matters" weekend retreats. They also teach Dave Ramsey's Financial Peace University and have been Coordinators since 2016. They are passionate about their ministry and serving others.
Family Life
Pastor Bryan and Dianne currently live in Hermitage PA with their lovable Chocolate Labradoodle, Abbie. They are most proud of their five kids... Pastor Bryan and Dianne pray that God uses their lives as an example to let Pam, PJ, Brenden, Taylor, and Camryn know they can accomplish anything they set their hearts on no matter what may come their way in this life!
It is Pastor Bryan and Dianne's deepest desire that they help lead others to Jesus Christ. They hope and pray that through their ministry at Wayside Emmanuel Church that God will use their lives as an example of hope and encouragement so others would come to know God's goodness, grace, mercy, and become all that God has created them to be!
Pastor Bryan Warner

An Inspiration to others
Bryan Warner was born in Elmhurst, IL and was raised In Lorain, Ohio. He started in ministry at the young age of 19 working with youth and families through America's Past Time...Baseball! Early in his career Bryan played baseball with aspirations to become a pro. However, God had other plans!
While he was a player, he was looking for a place to train in the off season and he answered an ad in the newspaper for a Coaching position at a local indoor training facility. Little did he know, this experience would change his life forever. Shortly after Bryan's playing career came to an end, he felt led by God to open up his own Baseball Training Academy.